Hi all, I've decided to write a quick guide as a thank you for all that I've been able to learn from these forums over the last few weeks.
Some of you have had some short and sweet posts regarding Zul'Aman as a farming zone, or as a scroll run etc.
Well, it could be a far more lucrative scroll run farm than you think.
I came across this technique while searching for ways to find the
.
I noticed that this item, among others, was on the loot table for
and went about trying to find out how rare these recipes actually were.
As a preamble please note I do not recommend this strat if you are below lvl 80(possible at lower levels if you really know your class), you also need to be able to form a raid.
This instance is on a 3 day reset timer.
TL DR
go to item 8, which will likely excite you enough to scroll back to the top and read this from the start.
So let's start with the basics.
1.
Getting There.
The instance is located in the south end of the Ghostlands. If you do not have the Flight Point you will likely have to fly to Lights Hope in Eastern Plaguelands and make your way from there.
If you do have the flight point, I recommend Taking your Main city portal, in the Mage training area, to Blasted Lands, fly through the Dark Portal, and fly to Shattrath (you can pick up some nice Patterns along the way). Once there, take the portal in A'dal's chamber to the Isle of Quel'Danas. From here take the Flight to Ghostlands.
This may seem more complex, but it is faster.
2. The Instance
Use your bank alt/friend to form a raid and head into the instance.
Originally the instance used to require 5 raiders to open the gates, as evidenced here:

However, only you and Harrison need to bang the gong to open the gates.
Opening the gates saves you to the instance. Once the gates open you will be greeted by two Amani Guardians, and about 6 scrub mobs.
The Guardians can be reset, however the scrub mobs will attack when you zone in and out of the instance if they have not been cleared.

3. What you're after, the Hex Sticks Mon!
Hex Sticks drop throughout the instance off the Humanoid mobs.
These sticks are not unique, however if you zone out or die and rez outside of the instance, these sticks will disappear out of your inventory.
The sticks can also be dropped from Amani Charm Boxes, but more on that later.
4. The Mobs
I wrote this guide because I have a number of 80 alts, but I'm absolutely terrible with some of them, this is the easy route.
There are three mob sets you're looking to kill.
The Guardians at the front, The pair down the stairs, and the pair (including a 60k health beast tamer) at the back.
The gate guardians do not respawn, but the other two sets are on a 30-60 minute spawn timer.
Killing the three mob sets typically yields 2-3 hex sticks (40% drop rate).
5. The Frogs.
Now that you have your hex sticks, you're going to use them on the Forest Frogs, these frogs are located near the centre step area of the Instance.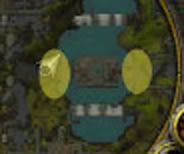 Simply select a Frog and use your Hex stick:
NB: This act will save you to the instance
The process is random and there's a lot of luck involved.
6. The NPCs
Ideally you'll get Gunter on your first try:
Open the trade window and purchase his
Other NPCs Include Kyren, who also has a blue item, which contains a flask type item: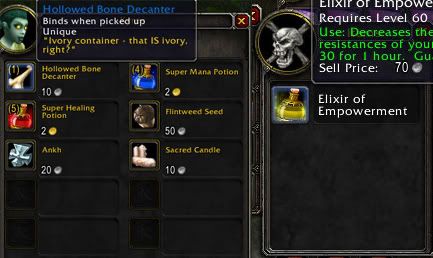 The rest drop either Amani Charm Boxes or Money Bags (typically contain approx 18g)
The Amani Charm Boxes can contain a number of items however the boxes from children seem to have a chance to drop additional Hex Sticks, the one below came from Brennan:
7. So you didn't get Gunter
Well, if you haven't found Gunter yet, you can either start killing additional mobs throughout the instance (Bird wing gauntlet is the easiest, followed by Lynx, and then bear)
OR you can log out to another character for 30-60 minutes, come back and the two sets will have respawned.
8. Loot
So, you have your
and you open it up and what do you FIND!!!!...
Well, sometimes you'll get a really crummy stack of lvl 60 buff scrolls, well that sucks, thanks for wasting my time Thomus!
HOWEVER, this week, for this guide I ran the instance on my 80 rogue, 80 mage, 83 warrior and 85 pally a total of 6 times (three day reset, and failed to get Gunter within the raid reset timer on some) and here's some of the items I received.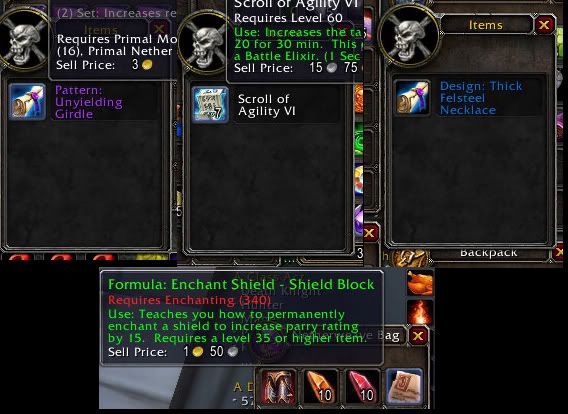 Ya, inoright! Also while writing this guide I needed another pic, so I did it a 7th time, and picked up
9. Sum Up.
So you're probably wondering if my loot table is really indicative of the Scroll Case loot table, well according to Wowhead it isn't.
If you look at the %s it would look like I got incredibly lucky with the drop rate, which could be true, but I have yet to have a reset without a semi rare scroll from the loot table from my 4 characters.
To that effect I would like to point out some of the final thoughts.
1. Posting this, and it becoming an effective farm tool for High to Extreme recipes, may devalue some of the items we've come to love as our bread and butter.
2. I haven't had a look at PTR, but with the change to Zul'Aman as a heroic instance, what they will keep of the lvl 70 instance is questionable, any thoughts?
3. One saving grace is that I cannot find a way to reset the instance and obtain infinite scrolls (yes this is a good thing).
Even if another char opens the gates it seems the act of freeing an NPC with a hex stick locks you to that instance.
4. My success and wow heads loot table do not seem to match up, however some of the items I looted do not appear on the loot table at all. What else could be in there?
Regardless, I humbly submit this guide for your own review and testing. I would love to see what items/success rate you obtain with your own adventures.
Here's to sharing, and good Karma, now hopefully I'll loot
sometime in the near future.